Ceux qui ont déjà discuté un tant soit peu avec moi le savent, la justice équitable et la liberté d'expression pour tous me sont chères. Ainsi, quand je tombe sur une affaire comme celle de Tommy Robinson, mon intérêt s'en trouve particulièrement titillé. Et comme une cerise sur le gâteau, il est plutôt à l'opposé de mon échiquier politique.

Qui est Tommy Robinson?
Donc, qui est-il, brièvement? Donc, Tommy Robinson, de son vrai nom Stephen Yaxley-Lennon, est un britannique de 35 ans, il est un militant d'extrême-droite, a fondé l'English Defense League et est maintenant un reporter. Il a déjà eu affaire à la justice, pour une bagarre de rue à plus de cent personnes, un coup de tête à un autre membre de l'EDL, pour une protestation sur les toits de la FIFA, pour avoir tenté de pénétrer aux USA avec un faux passeport, une tentative d'escroquerie au crédit immobilier portant sur un montant non-anecdotique. Quelques années plus tard, il a eu d'autres ennuis judiciaires en voulant filmer des accusés (lien) devant un tribunal où se déroulait un procès pour viols d'enfants. C'est un élément à garder en tête pour l'affaire qui nous occupe, car il a été condamné à du sursis dans cette affaire.
This is not about free speech, not about the freedom of the press, nor about legitimate journalism, and not about political correctness. It is about justice and ensuring that a trial can be carried out justly and fairly, it's about being innocent until proven guilty. It is about preserving the integrity of the jury to continue without people being intimidated or being affected by irresponsible and inaccurate 'reporting', if that's what it was

Judge Heather Norton
Que s'est-il passé?
Donc, il y a quelques jours à peine, se tenait à Leeds un  procès d'un cercle de prostitution. Tommy Robinson se trouvait hors du tribunal et diffusait en live. Il lisait des articles de journaux sur l'affaire et a eu quelques mots échangés avec des gens qui passaient pour des accusés dudit procès. Il a été arrêté et condamné à 13 mois de prison, dénonçant une censure qui les empêcherait de parler de l'affaire, titraient les médias pro-Robinson, dès les premières heures.
Ce reporting ban concerne en premier lieu le procès en lui-même, interdisant aux médias de parler de l'affaire pour éviter d'influencer le procès. Au moment du live de Tommy, les jurés étaient en train de considérer leur verdict après avoir passé six semaines à évaluer les preuves (lien), on peut donc considérer ce moment comme particulièrement critique pour l'issue du procès…
Lors de son arrestation et de son procès éclair, il y a eu un autre reporting ban. Il fut levé quatre jours plus tard, sur pression des médias (y compris du mainstream, comme The Independant). Nous en savons donc maintenant un peu plus sur les circonstances.
Une atteinte à la liberté d'expression?
La première chose que l'on peut relever, c'est que l'alt-right en a conclu que c'était une volonté de museler Robinson, une atteinte à la liberté d'expression. Il n'est aucunement envisagé que le reporting ban aurait pu être prononcé dans le but de protéger le cours du procès. Tout comme on s'est empressé de vouloir le faire passer pour un simple reporter en occultant sa condamnation avec sursis déjà prononcée un peu plus d'un an auparavant.
Bien sûr que ça peut être un moyen de pression pour qu'il se taise, mais de là à faire passer ça pour un acte gratuit et un déni de justice à son encontre, il y a un pas que je ne ferai pas. Il était parfaitement au courant des risques encourus. On pourrait se demander si ce n'était pas calculé, mais ce serait faire un procès d'intention, tout comme l'alt-right accusait la presse mainstream et les autorités de cacher les scandales de Telford et la justice de ne pas les avoir condamnés. Et pourtant on trouve assez facilement des articles de 2013 et au-delà relatant les faits (lien).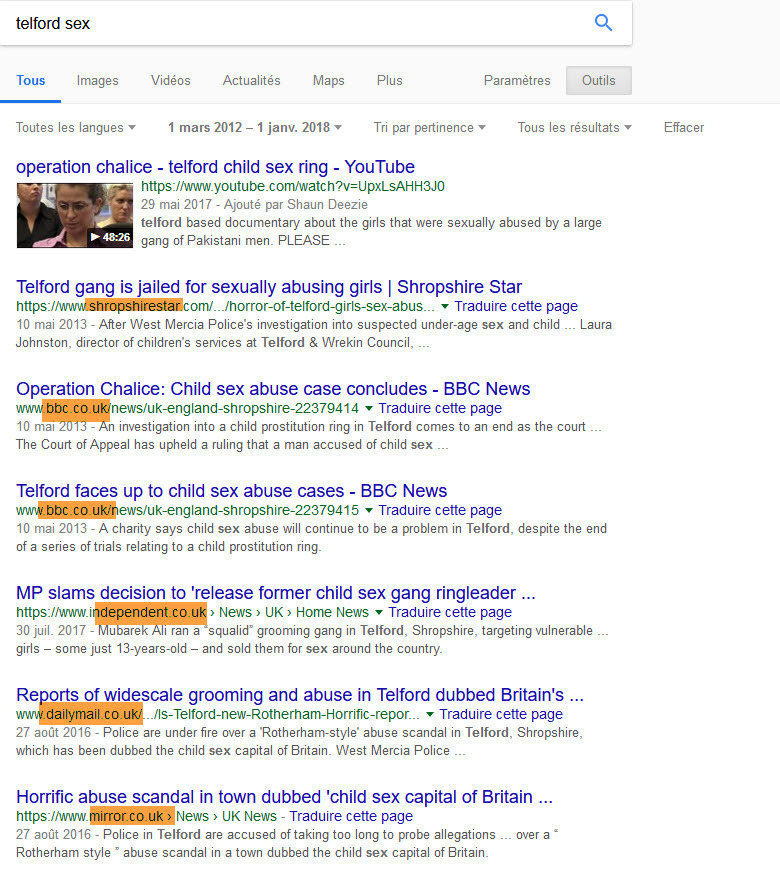 Au niveau de « le gouvernement et les médias veulent cacher la vérité au peuple », on a vu mieux quand même. Et même lorsque l'affaire a pris un nouveau tournant en mars 2018, c'est le Sunday Mirror qui revenait sur l'affaire et qui met en lumière des manquements des autorités locales ainsi qu'une échelle beaucoup plus grande qu'initialement . Enfin bref, on ne peut décemment pas présenter Tommy Robinson comme « whistleblower » du scandale. Par contre, l'alt-right a su l'utiliser d'une manière cynique au possible, arguant que si le scandale avait été (prétendument) étouffé, c'était parce que les victimes auraient été uniquement des jeunes filles blanches.
Pour ma part, Tommy Robinson et tous les autres doivent pouvoir parler librement, sans crainte de la part de la justice. Mais que l'issue d'un procès puisse être compromise (y compris au détriment des victimes!), je le tolère nettement moins. La seule chose que je dirais en sa faveur est qu'il doit être protégé en prison, les risques de vengeance téléguidées étant bien réelles (lien).
Que doit-on en conclure?
J'ai envie de dire, tout ce que vous voudrez bien en penser, vous êtes libres après tout. Pour ma part, je dirais que si les publications et actes de Tommy Robinson ont permis de rendre la population à nouveau attentive à un des pires scandale sexuels de l'histoire de la Grande Bretagne, alors c'est une bonne chose, bien que je doute qu'il aie utilisé cette affaire comme un prétexte. En effet, tout le narratif de l'alt-right me laisse presque à penser qu'ils se sont intéressés à ce scandale qu'à cause de la couleur de peau des accusés et de celle (prétendue) des victimes.
S'il y a eu des tentatives de dissimulation, sciemment commises, alors ces personnes doivent être jugées aussi, aussi haut-placées soient-elles. Avec l'étendue des crimes, l'enquête et les procès peuvent très bien durer des années (La justice immédiate, c'est comme l'info immédiate, c'est souvent de la merde), cela sera long et dur pour les victimes qui ont déjà connu les affres de leurs tortionnaires. Il n'y aura peut-être dans certains cas pas assez d'indices, trop peu de temps, pour tout examiner à la loupe. Mais ne laissons jamais des esprits fâcheux animés d'autres buts récupérer ces crimes et soyons autant vocaux qu'eux, si ce n'est davantage…